Echinacea is an herbaceous flowering plant that is more commonly known as the Coneflower. It's a pretty plant to add to any landscape, but it's far more useful than just being aesthetically pleasing!
An echinacea tincture can be a gamechanger for colds and cases of flu- read on to find out how to make your own!
This website contains affiliate links- meaning that if you follow a link to something I recommend, I might receive a small commission at no extra cost to you. I only recommend products I love! More info here.
The Echinacea plant
The echinacea plant (or Coneflower) is in the Asteraceae family, along with daisies and asters. It's a perennial prairie flower native to North America, and it was used by Native Americans to help heal wounds or infections.
The most common type of Coneflower is Echinacea purpurea, which has downward pointing petals.
Echinacea flowers range from white to pink or purple. They attract butterflies and birds, and they're highly tolerant of poor soil, drought, heat, and humidity! These hardy plants are good choices to plant anywhere in zones 3 – 10. (source)
You can buy medicinal Coneflower seeds here.
Besides being pretty in a vase or using the ornamental cones in the center of the flower, echinacea is also fantastic for your health.
Growing Coneflower means you have a natural remedy right outside your door!
Related: Dandelion herbal benefits from flower to root
If you enjoy gardening, check out this list of medicinal herbs you need to grow!
Echinacea benefits
I'm sure you've heard of echinacea- it has become more and more popular, and that's because it works! Echinacea helps to boost your immune system and help you get over colds and flu more quickly.
Related: How to make elderberry syrup to give your immune system a boost
The phenols found in echinacea are antioxidants that help protect your body. (source)
Echinacea is also antimicrobial, and some studies suggest that it can help with chronic fatigue, indigestion, migraines, and even UTIs!
Related: The best ways to avoid a UTI naturally
You don't need to know everything about echinacea to experience its benefits- you can see for yourself how great it is by making your own echinacea tincture!
Echinacea tincture recipe and usage
This recipe is a simple, inexpensive, and effective way to make sure you stay healthy and support your immune system through cold and flu season.
This recipe includes echinacea roots, flowers, and leaves to make it as beneficial as possible. Echinacea root is the easiest plant part to find at stores, however, so if you aren't able to find the flowers or leaves, just use one cup of the root. Don't worry- it'll still be good for you. =)
This recipe is from Healing Herbal Infusions by Colleen Codekas (reprinted with permission). If you like this recipe and want to see tons of other herbal recipes for health, skin care, and more, you can buy the book here!
Ingredients
½ cup (40 g) dried echinacea root
½ cup (20 g) dried whole echinacea flowers and/or leaves
1½ cups (360 ml) 80 proof vodka
You'll also need a pint-sized mason jar.
If you're buying your herbs on Starwest Botanicals (where I get all my bulk herbs) make sure you're getting the cut herbs and roots, not the powder.
How to make your echinacea tincture
Putting together your echinacea tincture is super easy! Just put the dried ingredients in your mason jar, and shake to combine.
Label the jar with the date, ingredients, type of alcohol you used, and the date your tincture will be ready.
Put the jar in a cool, dark place and give it a shake about every day (or every couple of days- whenever you remember!)
Infuse the tincture for 4 – 6 weeks. It's fine if you leave it longer- it won't go bad!
After your mixture has infused, use a fine-mesh sieve to strain the tincture into dropper bottles for easy access. You can compost the leftover plant material!
Printable recipe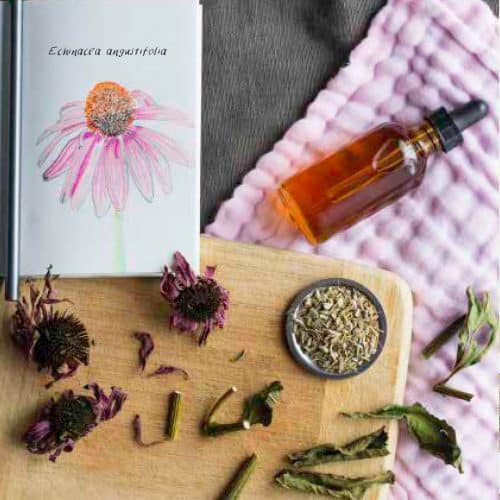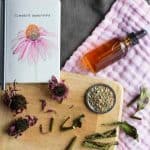 Echinacea Root and Flower Tincture
Use this easy-to-make echinacea tincture at the first sign of sickness to help support your immune system for a quick recovery.
Ingredients
1/2

cup

dried echinacea root

1/2

cup

dried whole echinacea flowers (or leaves)

1 1/2

cups

vodka (80 proof)
Instructions
Put all dried ingredients in a pint-sized mason jar and cover with alcohol.

Cover tightly with a lid and shake to combine.

Label jar with ingredients, date, and alcohol used.

Let mixture infuse for 4 - 6 weeks, then strain into dropper bottles and label.
This tincture should last you a while, and it's good for 4-6 years!
Make sure to label your finished tincture with the ingredients, date, and type of alcohol. Once you start making your own natural remedies, it's easy to forget what's in a dropper bottle!
Echinacea dosage
For the most benefit, take 5 ml (about 1 teaspoon) of your tincture 2 or 3 times per day. I like using this dropper for super easy measuring.
Take the tincture at the first sign of a cold or flu. You can put the liquid straight into your mouth, under your tongue, followed by a drink of water, or you can mix it into water or tea.
Take your echinacea tincture until your symptoms improve.
If symptoms worsen, or you have a high temperature for multiple days, please go see a doctor!
Echinacea for kids
For kids over two, or anyone who wants to avoid alcohol, you can make this same tincture with a food-grade vegetable glycerin instead of vodka.
There is also a recipe for Elderberry & Echinacea Glycerite for Colds & Flus on page 186 of Healing Herbal Infusions!
Glycerin acts as a preservative but isn't quite as effective as alcohol, so use your tincture made with glycerin within 1-2 years.
Echinacea side effects
The most common adverse side effects of echinacea occur when companies mislabel and release tainted products, with side effects coming from the additives, not the echinacea itself.
Some products labeled with echinacea don't even include any of the plant material at all!
In most countries, including the US and UK, herbal remedies are not strictly regulated. If you buy tinctures or herbal concoctions from the store, make sure you trust the companies you buy from.
Making your own tinctures is a great way to avoid getting mislabeled or toxic products. That way, you know exactly what you're putting in your body!
(PS: If you want to learn more about making your own tinctures, check out this post on how to make herbal tinctures using the folk method!)
There are also some rare people with allergies to echinacea. If you have a sensitivity to echinacea, and you start taking your tincture, you might experience a headache or mild nausea. Each time you take echinacea, check for side effects. If you notice a trend, either reduce your dosage or stop taking it and you should be fine!
If you have an autoimmune disease, check with your doctor before adding echinacea, since it has an effect on the immune system.
Echinacea is fine for pregnant and nursing women to use in moderation.
More immune boosters
If you liked this recipe, then you're sure to enjoy these other immune-boosting recipes and tips for avoiding sickness!
Check out these links to get inspired and help you feel better during cold and flu season! Most of these recipes use ingredients that you probably already have in your kitchen!
About the book
Healing Herbal Infusions, by Colleen Codekas, is a fantastic book for anyone who wants to start learning about and using herbs for natural remedies!
Colleen is an herbalist and the owner of Grow Forage Cook Ferment, where you can find tons of fantastic information on everything herbal, and you'll also find her other two books, Wildcrafting Weeds and Simple Mead Making. Colleen also sells handmade herbal balms and salves at her Etsy store, Coco's Herbals.
Her herbal infusions are easy to make, inexpensive, and they really work! You'll find 75 recipes for making your own remedies for colds, stress, skin conditions, nausea, and more.
Use this book to avoid toxins and make homemade remedies for your family's wellbeing.
This is an updated, modern, go-to resource that includes dosage, safety information, and recommendations for each herbal recipe.
Some of my other favorite recipes are the Pine Needles Cough Syrup (page 82), Sleep Well Tea (page 124) and the lovely Rejuvenating Flower Bath Soak (page 136).
Plus, the pictures are absolutely gorgeous. I could spend all day just poring over the photography!
Don't miss out on this fantastic herbal resource!
You can buy the book on Amazon here.