Whether you're facing contagious sicknesses or just your yearly spring cleaning, having an effective, safe, non-toxic disinfectant spray on hand is always a good idea.
Read on to find out more about the toxins in conventional disinfectants, and why you should probably never use Lysol or bleach.
You'll also learn how to make your own super-easy disinfectant spray, and the best disinfectant sprays and wipes you can buy for a non-toxic cleaning!
Related: 15 all-natural recipes you need for non-toxic house cleaning
This website contains affiliate links- meaning that if you follow a link to something I recommend, I might receive a small commission at no extra cost to you. More info here.
Why you need non-toxic disinfectants
We've been well trained (thanks, commercials) to think that things like Lysol and bleach are effective and nothing else works to really get things clean.
I know I've used bleach to clean up after things like a mouse infestation! Sometimes it seems like you just gotta bring out the big guns.
But how effective are these "extra-strength" cleaners, anyway? And do we really need them?
Why Lysol and Clorox are terrible
As an example, aerosol Lysol disinfectant sprays are rated F on EWG.org (a site that catalogs the ingredients and toxicity of thousands of body and household products).
That's the worst rating you can get! So what are the ingredients of Lysol disinfectant spray? It includes Mipa-Borate, Ammonium Hydroxide, and fragrance.
These ingredients have a high concern for developmental and reproductive toxicity, not to mention the dangers of causing breathing problems, cancer, skin irritation, and environmental concerns.
"Fragrance" is an especially nasty ingredient found in many store-bought cleaners. It's an unregulated term, that could include a mixture of a hundred different toxins that mess with your hormones and might cause cancer.
Carcinogens to clean up some bacteria? Hard pass.
Lysol aerosol sprays are especially nasty because you're breathing them in when you spray them, and they're made to be sticky and cling on to surfaces -including your lungs.
The chemicals soak straight into your bloodstream and just give your body one more thing it needs to fight off!
Spray cans of Lysol proudly state that it "kills 99.9% of bacteria and viruses" but really, there should also be Lysol disinfectant spray warnings about what else you might be killing.
The truth about bleach
Clorox? It's just nasty- zero Clorox products on EWG rated better than a D!
The chlorine in bleach can lead to headaches, respiratory problems, and cancer, not to mention the numerous accidents that happen every year when people ingest or even touch bleach products.
Bleach is also highly toxic to people and the environment.
The EPA has a comparison chart for disinfectants, and they have rated the toxicity of bleach at Category I– which is the category for super toxic, lethal in small doses, skull-and-crossbones types of chemicals.
In other words, it's poison!
That same chart states that anything bleached needs to be rinsed afterward if any skin or oral contact might occur.
But who does that when disinfecting kids' toys?
Plus Clorox themselves have stated that their scented bleaches, along with other bleach products, aren't even registered disinfectants.
Pretty much, they've just had a very successful marketing campaign to make you think you need their products! I know that bleach seems like the only option sometimes but look at the health costs…
The trade-off just isn't worth it.
Thankfully, you don't have to choose between carcinogens and viruses!
There are natural disinfectant sprays out there that work just as well.
You can make a much better disinfectant "Lysol" spray yourself, or buy a non-toxic disinfectant that's just as effective as bleach. Read on to find out more!
How to make an effective disinfectant spray
Not only can you make your own disinfecting spray easily at home, it's actually much cheaper and just as effective as anything you can buy at the store!
This super-simple recipe will last you for a long time and you can make more in seconds.
This DIY spray is also a great low waste option if you store it in glass and choose to use something other than disposable paper towels for your cleaning!
Related: The best zero waste products to start reducing your trash
What you need to make your own disinfectant:
The amber spray bottle is important because when hydrogen peroxide is exposed to light, it can become less effective and pretty much turns into water. These spray bottles are high quality and have lasted me a long time. And they're UV protected!
Hydrogen peroxide is an important ingredient because it's a cheap, effective disinfectant.
Multiple studies have shown that just a 0.5% hydrogen peroxide solution is good enough to kill Coronavirus! (source) That's why I recommend it as a substitute for alcohol in my homemade hand sanitizer recipe.
Related: How to make your own extra-strength, non-toxic hand sanitizer
And along with the strong antimicrobial essential oils in this recipe, you have the perfect disinfecting cleaner for effectively getting rid of the viruses and bugs that might be sitting around on any surfaces.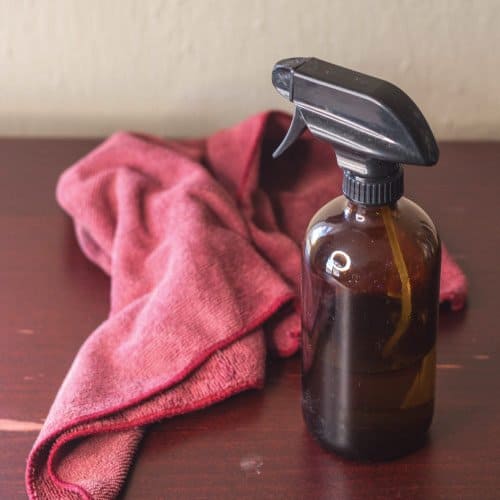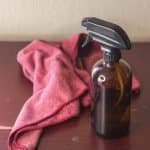 Easy DIY disinfecting spray
This disinfecting spray is effective against bacteria and viruses and takes only seconds to make!
Ingredients
1.5

cups

hydrogen peroxide

(3% solution)

10

drops

tea tree essential oil

10

drops

eucalyptus essential oil
Instructions
Combine hydrogen peroxide and essential oils in an amber spray bottle
Of course, since just a 0.5% hydrogen peroxide solution is good enough to disinfect surfaces and kill Coronavirus, you could use a half and half mixture of water and hydrogen peroxide (or even one part 3% hydrogen peroxide to five parts water) and still have an effective disinfectant spray.
Adding water to your DIY disinfecting spray might be a good idea if you're running short on hydrogen peroxide (I use it for everything so I run into this problem a lot!).
But keep in mind that water can harbor bacteria more easily when it isn't purified or distilled, so it's best to refrigerate your diluted disinfecting spray and use it within a few weeks.
How to use your disinfecting spray
To use your homemade disinfecting spray, simply spray down surfaces, and wipe down. For maximum efficiency and a deep clean, let it sit for at least five minutes.
I wouldn't recommend your disinfecting spray for fabric- the hydrogen peroxide could potentially bleach fabric surfaces if left on. (But it's great for getting stains out of clothes!)
This natural disinfecting spray is safe for babies after it's wiped up- unlike bleach, it won't leave a toxic residue. This spray makes a great choice for safely cleaning any baby and kid's toys!
But still, keep your spray bottle out of the reach of kids. The essential oils are a little strong and it definitely won't taste good!
The best disinfecting products
One of my favorite multi-purpose cleaners, and one we always keep around the house, is Seventh Generation Disinfecting Multi-Surface Cleaner. It's effective and rated a safe B on EWG!
The active ingredient in this disinfecting spray is Thymol, a derivative of thyme. It's classified as a "mild local irritant" (source). But when diluted in a spray, Thymol is just as good as bleach -without all the toxic dangers!
According to the EPA's disinfectant comparison chart, the toxicity of Thymol is rated as Category IV (relatively non-toxic), vs the Category I poison rating of bleach.
But they're equally effective!
Another great option is Force of Nature natural cleaner.
This is a really neat cleaner that just uses salt, water, and vinegar. When these ingredients are electrolyzed, they convert into an EPA registered disinfectant and sanitizer you make from home!
It's like a cool science experiment plus a safe cleaner- that's just as effective as bleach or any other disinfectant you can buy!
Other safe and effective disinfecting products
If you're looking for wipes, I'm sorry to say that I didn't find any clean options for buying non-toxic disinfectant wipes.
The best option would probably be to DIY- make the disinfectant spray recipe above and then use the spray to saturate a cloth for wiping down surfaces. Yes, it's a little more involved than just buying wipes, but it's cheaper, low-waste, and safe!
You could even put a few damp cloths in a jar to take with you and wipe down things like carts at the store.
If you're looking for a more convenient option when you're out and about, go with a good non-toxic hand sanitizer.
I love this all-purpose spray and hand sanitizer!
It uses non-GMO alcohol and naturally antibacterial essential oils, and it's handy to have available anywhere you go. It even works as a surface cleaner and deodorant!
If you'd rather go the DIY route, check out my recipe for easy extra-strength homemade hand sanitizer.
Other non-toxic cleaning options
If you don't need a hardcore disinfecting product but you still want a clean house, make sure to check out my post on all the recipes you need for a non-toxic house cleaning!
And if you want a natural disinfectant for the air, I'd highly recommend you try smudging. Learn how to smudge your house here!
Have you been exposed to too many toxins already? Then you might have a chemical sensitivity. If that's the case, then you'll definitely want to check out my post that's all about chemical sensitivities and how to detox!
And if you're interested in other ways to get toxins out of your house, check out my free e-book:
Hopefully, this post was informative- and I hope that you'll pick natural disinfectant cleaners over toxic products from now on!
If you liked this post, make sure to pin it for later!